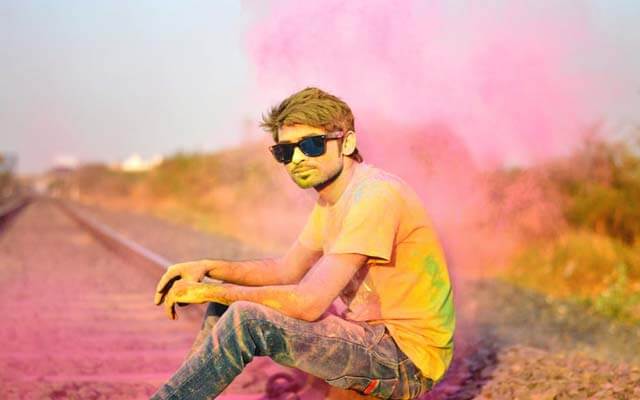 Collection of  Happy Holi Wishes
Chahe Ho Yeh Phika Ya Gehra,
Holi Ka Har Rang Kuch Kehta Hai,
Gulaal Ka Rang Mujhe Maloom Nahi,
Par Rishto Ka Rang Pyara Hota Hai.
Happy Holi Wishes
♠♠—♣♣—♥♥
Holi Ke Rangon Ki Trah Rangeen Hai Zindagi,
Apne Ho Sath To Badi Taskeen Hai Zindagi,
Rango Mein Ghuli Zindagi Kya Laal Gulabi Hai,
Jo Dekhta Hai Kehta Hai Kya Maal Gulabi Hai,
Pichle Baras Tune Jo Bhigoya Tha Holi Mei,
Ab Tak Nishani Ka Wo Rumaal Gulabi Hai.
♠♠—♣♣—♥♥
Daru Ki Khushbu, Beer Ki Mithas,
Ganje Ki Roti, Charas Ka Saag,
Bhaang Ke Pakode, Afeem Ka Pyaar,
Mubarak Ho Aapko 2 Din Pehle Holi Ka Tyohaar.
50+ Holi Shayari in Hindi for Friends

Niklo galiyo mein bana ke toli,
Bhiga do aaj har ladki ki jholi,
Muskura de to usey bahon mein bhar lo..
Varna side ho lo keh ke HAPPY HOLI.
Happy Holi Wishes
♠♠—♣♣—♥♥
Celebrating the colours,
of our beautiful relationship,
I wish you and your family,
all the bright hues of life.
Have a colourful holi
♠♠—♣♣—♥♥
Holi Rangoon Ka Tyohar Hai,
Duniya Rang Birangi Hai,
Main Holi Ke Din Apne Sare Dostoon Ko,
Holi Ki Bahut-Bahut Shubhkamnaye Deta Hoon.
Advance Holi Wishes For Girlfriend

Pyaar hai to College Mast
Sugar hai to Coffee Mast
Luv hai to Life Mast
Dream hai to Night Mast
Aur Water hai to Holi Mast.
Happy Holi Wishes
♠♠—♣♣—♥♥
Holi is a special time of the year to remember,
those who are close to our hearts with splashing colours
Pink For Love And Beauty,
Red For Courage And Vitality,
Yellow For Joy And Happiness,
Blue For Spirituality And Peace,
Gold For Prosperity And Wisdom,
Green For Fertility And Well-Being,
And White For Purity And Cleanliness.
Happy Holi Wishes
Happy Holi Wishes in Hindi

Aye Khuda Aaj To Rehem Kar De,
Mere Dost Aaj Nhi Reh Payenge,
Lagwa De Kisi Ladki Ke Haatho Inhe Rang,
Ye Kamine Pure Saal Nhi Nahayenge.
Happy Holi Wishes
♠♠—♣♣—♥♥
Holi is a time to reach out with the colors of joy,
It is the time to love and forgive,
It is the time expresses the happiness of being,
loved and to be loved through colors.
♠♠—♣♣—♥♥
May God Gift You All The Colors Of Life,
Colors Of Joy, Colors Of Happiness,
Colors Of Friendship, Colors Of Love,
And All Other Colors You Want To Paint In Your Life.
Happy Holi Wishes

Ye jo rango ka tyohar hai,
Iss din na hue laal pile to zindagi bekar hai,
Rang lagana to itna pakka lagana,
Jitna pakka tu mera yaar hai.
Happy Holi
♠♠—♣♣—♥♥
May God gift you all the colors of life,
colors of joy, colors of happiness, colors of friendship,
colors of love and all other colors you
want to paint in your life. Happy Holi.
♠♠—♣♣—♥♥
Rangon Se Bhi Rangeen Zindagi Hai Humari,
Rangeeli Rahe Yeh Bandagi Hai Humari,
Kabhi Na Bigde Ye Pyar Ki Rangoli,
Aaye Mere Yaar Aisi Happy Holi Sms.
45+ Happy Holi Message for You and Your Family

Gulaal ka Rang, Gubaaro ki Maar,
Suraj ki Kirne, Khushiyo ki Bahaar,
Chand ki Chandni, Apno ka Pyaar,
Mubaarak ho Aapko Rango ka Tyohaar.
Happy Holi Wishes
♠♠—♣♣—♥♥
A true and caring relation doesn't have to speak loud,
a soft message is just enough to express the heartiest feelings.
Enjoy the festival of Holi with lot of fun.
♠♠—♣♣—♥♥
Pyaar Ke Rang Udaaye Yeh Pichkari,
Rang Jaaye Yeh Duniyaa Saari,
Holi Ka Rang Aapka Jeevan Rang De,
Hamesha Yeh Kaamna Hamaari.
Happy Holi Wishes in Hindi
Pyar, Sneh, Samarpan, Dular,
Mohabbat, Sadbhawna, Sadvichar,
Inn saat rango ki rahe baucchar,
Aaj ka din laye aapke jeevan me Satrangi Bahaar.
Happy Holi Wishes
♠♠—♣♣—♥♥
Holi is the day to express love with colors,
It is a time to show affection.
All the colors that are on you are of love
♠♠—♣♣—♥♥
Radha Ka Rang Aur Kanha Ki Pichkari,
Pyaar Ke Rang Se Rang Do Duniya Saari,
Ye Rang Na Jaane Koi Jaat Na Koi Boli,
Mubarak Ho Aapko Rang Bhari Holi. Holi Shayari.
10+ Best Republic Day Quotes in Hindi

Gujhiya ki mehak aane se pehle,
Rango me nahane se pehle,
Holi ke nashe me ghum hone se pehle,
Hum aapse kehte hai happy holi sabse pehle
Happy Holi Wishes
♠♠—♣♣—♥♥
Holi is the apt time to break the ice,
renew relationships and link yourself with those
that you wanted to with a bit of color
♠♠—♣♣—♥♥
Holi Aayi Satrangi Rango Ki Bouchar Laayi,
Dher Saari Mithai Aur Mitha Mitha Pyar Laayi,
Aap Ki Zindagi Ho Mithe Pyar Aur Khusiyon Se Bhari,
Jisme Samaye Saton Rang Yahi Shubhkamna Hai Hamaari.
Happy Holi Wishes and Shayari
Chod diye Wo Dhande hmne,
Jinke Anjaam The Gande sbse,
Pura Mahina Neik Kaamo Me Bitayenge,
Ab holi Ke Baad Hi Nayi Ladki Patayenge.
Happy Holi Wishes
♠♠—♣♣—♥♥
Wo Paani ki Bauchar,
wo gulaal ki Fuhaar,
wo Ghoro se nikalna,
wo Galion main Ghumna,
Wo Dosto ki Dhoom,
Oh Yaara Holi "HOLI" is coming soon
WISHING U A VERY HAPPY HOLI…
♠♠—♣♣—♥♥
Some Crave For Sweets, Others Cry Or Laugh,
Let's Heighten The Revelry, De-Stress And Bond,
The Air Is Filled With Aroma Of Flowers,
Let's Enjoy This Colourful And Organised Chaos.
Holi SmS
15+ Columbus Quotes and Sayings

Phool ki shuruwat kali se hoti hai,
Zindagi ki shuruwat pyaar se hoti hai,
Pyaar ki shuruwat apno se hoti hai aur,
apno ki shuruwat aapse hoti hai.
Happy Holi Wishes